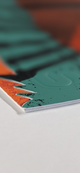 Outrun
Artist: David Heo
16″ x 21″

18 colors + 3 simulated collage layers
Rising Museum 500gsm
Straight cut edges
Edition of 40


From the Artist:
Outrun was a collage I made back in the summer of 2020. The spirit, the fucking zeitgeist was rough around that timeframe. So when Serio Press hit me up about making a print, I was like, "Yes, this would be a dope thing to try and process this idea of like, 'What the fuck is 2020, y'know?'" Outrun was the result, and it really hit home for me.

Tony, the printer, is sadistic in this idea of, let's make these hand-pulled screen prints that mimic the effect, the relief, the layering, and the texture of your collages. I was like "Sick, yes lets go." When it came to the variants I didn't really want to do a color-way. I just don't think that's really fun. And I was thinking a lot about the history of monoprints and this idea of a series within a series, and so I wanted to treat it in the same spirit of my work. I hand painted, hand cut and collaged on them.

It's been a little weird to see what Outrun means to me as a piece back then as to now. My intentions for this piece were deeply affected by ALL motions of 2020. It's eerie because it's June 2021 and this collage-to-print quietly evolved to be a little too prophetic.

From the studio:


Texture is a key component of David Heo's work, and his art practice often incorporates hand-cut paper collages. We wanted to honor his technique in our  process, so our idea was to simulate the look and feel of stacked paper in one of his collages by
 solely 
using serigraphy printing techniques.
By printing the same stencil repeatedly, we were able to create plateaus of ink that mimic the paper layers in the artist's original work. The colors of the piece were printed b
etween each of the three layered
 ink 
sections, 
making several different levels of imagery stacked on top of one another.
We had been experimenting with this ink build-up process for quite some time, but this is the first time we've been able to use it in a publication where it makes sense. Collectors are encouraged to touch the print (with clean hands!) to fully appreciate the tactile elements of the work.
Artist Bio:
David Heo (B. 1992, Georgia) is a Chicago-based artist. He received his Master of Fine Arts in Painting and Drawing from the School of the Art Institute of Chicago. In recent works, Heo commonly utilizes history, to illustrate a range of folklore from grand, mythic metanarratives to quiet frames of daily life. Heo renders the traditional into the contemporary as he processes his personal experiences at the moment. By using the symbology classic to historical paintings and illustrations of mythology and folklore—the horse, the tiger, the dog—Heo typologies the people he meets and interactions during nights out. Heo's work has been exhibited internationally and featured in various publications.
This section doesn't currently include any content. Add content to this section using the sidebar.