Sold out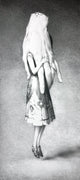 Lineage
Artist: Esao Andrews
16″ x 33″

12 colors 
Coventry rag 290gsm
Deckled edges
Edition of 100

Ships flat // limit 1 per household


From the Artist:

Lineage is both about being a part of something larger and honoring someone's memory. Like a lot of my work, I enjoy keeping the meaning ambiguous and open to different interpretations that lead in a general direction. This piece feels sad and sentimental, but also portrays a sense of comfort.

At first I imagined the larger-than-life hand reaching down from the clouds and lifting up the figure that's embracing it. Then I thought the hand could be more statuesque- a piece of something larger and symbolic instead of a physical god. I imagine the bigger story beyond this particular configuration. The hand could also be considered a heavy, yet fragile weight at times. The two figures together could represent a relationship in which one needs to hold onto the other in order to stay afloat.

I love contrast and color - most of my timeline shows that. However, lately I've been finding more and more interest in subtle shading, subdued colors, and loosening up with confidence. I have a desire to move in a direction I had previously been uncomfortable with. "Lineage" is one of the only fully-rendered pencil drawings I've done beyond doodles. It's subtle and greyscale, but it is printed large, revealing my slightly rough pencil work. I love the way a pencil or a charcoal line sits on the tooth of the paper, and the size of this print embraces the kind of drawings I want the confidence to show more of.


From the studio:

This edition came about after Esao visited our studio, and was inspired by a series of monochromatic prints he found in our flat file. With fresh inspiration in mind, Esao created a new original drawing in graphite for us to print.

We start with the a transparent black that is so translucent it is nearly invisible. Using 12 layers of trans black in varying degrees of opacity, we very slowly shift the values darker in order to recreate the soft mark-making that graphite is known for.


Artist Bio:

Esao Andrews (b. 1978) received his B.F.A. in NYC from The School of Visual Arts in 2000. The artist lives and works in Hudson, NY.

Working across mediums including painting, drawing, sculpture, and mural; Andrews fashions work that evokes nuanced stories. Interested in reimagining humankind's relationship with nature, the artworks start conversations about mortality, addiction, love, and change.

Inspired by American visual artists like Andrew Wyeth, alt culture, and his beautiful girlfriend Clare, Esao likes to spend his free time skateboarding and petting dogs.
This section doesn't currently include any content. Add content to this section using the sidebar.